December 30, 2021| Category: Writing Tips
Academic projects are incredibly versatile. Some essays entail only superficial research, while other assignments delve into the subject profoundly, being authentic scholarly investigations. Despite the sophistication and length of the assigned written work, certain fundamental cognitive activities have become common. Often, professors focus on such elements of paper writing as defining, describing, evaluating, summarizing, critiquing, reviewing, and creating from scratch. Not all of these aspects are required for every single composition. Yet, a typical problem among the beginning writers is failure to differentiate between analysis, evaluation, ideas generation and description, definition, and summary. It is important to realize that you cannot substitute evaluation with description or creation with summary. Luckily, it is easy to prevent such failures and keep our customers satisfied if you immerse in instructions attentively. Read this article to learn some useful tips on decoding professors' instructions, regardless of the topic and academic level of the order.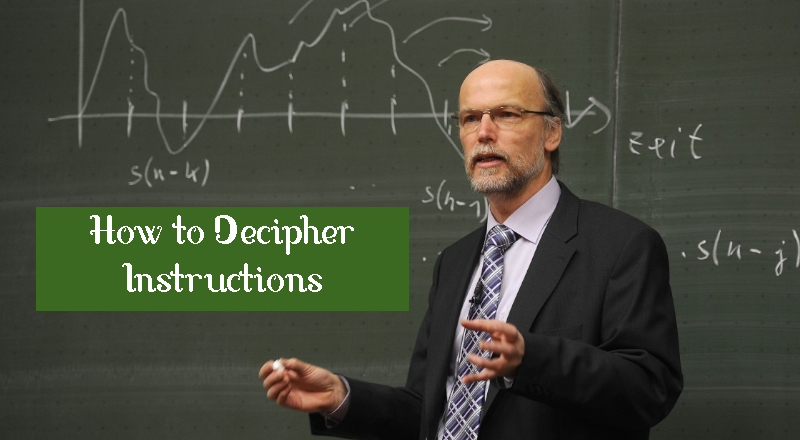 Pay Attention to the Listed Keywords
Typically, the requirements would encompass an introductory section (sometimes, an abstract), brief overview of the assignment's main part, questions to instigate food for thought, and the list of obligatory sources. Sometimes, professors go the extra mile and provide valuable hints of the necessary paper flow. They can even reveal some valuable concepts you should scrutinize. These elements of the assignment are indeed essential, but you should pay special attention to the primary keyword (perhaps, the instructor has repeated it several times). Usually, this is the action verb, which elucidates the core constituents of the requirements.
Have a look at the subsequent example, where 'analyze' serves as an action verb.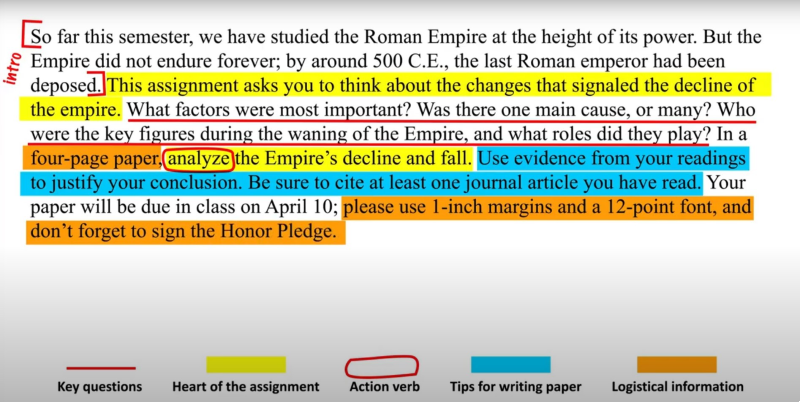 The more you write essays, the more you become eagle-eyed. It means you instantly see this "hook" verb, which elucidates the main intention of the assignment. It is the key factor to comprehension of the subject matter in question as well as the required structure. For instance, when your task is to explore the reasons behind the spread of pandemic, you need to focus on its initial triggers.
If you work on a high-school research paper, it is quite easy to summarize your findings as well as to recall and report the necessary information. Yet, starting from college level, the requirements become more complicated. Thus, you need to apply more in-depth knowledge and come to logical conclusions. Professors usually encourage students to display advanced thinking based on critical or analytical evaluation of the subject matter.
The Thinking Levels
When the assigned paper is centered around analysis, it entails more profound cognitive processes than when your task is to simply summarize the material. There is a hierarchy of the thinking levels perfectly illustrated by Benjamin Bloom. This American educational psychologist created a special tool called Bloom's Taxonomy, including the following levels:
1. Remembering: is based on long‐term memory recognition, retrieval, and recollection of the most appropriate knowledge.
2. Understanding: revolves around generating meaning and even insights from written, graphic, and oral messages by dint of exemplification, classification, comparison, interpretation, inference, elucidation, and summary.
3. Applying: is aimed at carrying out a procedure for implementation or execution.
4. Analyzing: embodies analysis and is intended to divide the researched material into integral components. Its major goal is to determine how various constituents are connected to one another. This scrutiny entwines the essential parts with the general purpose with the help of attribution, differentiation, and organization.
5. Evaluating: is a thinking pattern that reveals the necessary criteria and specific standards by dint of appraising and checking.
6. Creating: amalgamates similar and contrasting elements together, establishing a coherent and practical whole. By subjecting to generation and planning, it helps to rearrange the necessary elements into new patterns and structures.
By studying the above-mentioned thinking levels, it becomes obvious that summarizing, describing/elucidating, and defining belong to the fundamental cognitive skills. More sophisticated levels are revealed during the production of new-fangled ideas and application of the relevant information.
Therefore, if the paper instructions ask to employ analysis of the subject matter, but you produce its summary instead, such an academic work will not be graded high. Some professors may regard summarizing instead of analyzing as the student's inability to think analytically. Thus, there is a high risk to get an unfortunate F grade.
Excerpts from Instructions
The following extracts from academic requirements illustrate the necessary keywords pretty well.



If you evaluate these excerpts closely, you will instantly determine that the third task is the most sophisticated. It entails profound thinking based on creativity. Evidently, the second sample of instructions is also quite tricky, as the writer would impulsively want to retell all the compelling ideas of the movie in the first place. However, for this task, such details are redundant. Look at the highlighted words "identify" and "discuss" – you have to determine and debate on the product placements instead. It also encompasses analysis because you cannot properly answer both questions without analyzing the placements.
Typical Keywords and Their Connotation
By studying typical keywords and their explanations, you will understand the paper instructions much better. The keywords are divided into categories such as information words, relation words, and interpretation words.
Information Words
They aim to determine your basic knowledge on the topic. Hence, they ask questions such as why, where, who, when, what, and how.
Define – endow your subject matter with meaning (in relation to an object or a subject). Your subject can be defined from multiple views.
Describe – expound on your topic and central message. The following question words will help you out: what, where, when, who, how, and why. It may also be beneficial to delve into the details related to the five senses (sight, hearing, touch, smell, and taste).
Explain – elucidate fundamental reasons behind certain events or relevant concepts.
Illustrate – exemplify the subject matter, depicting pertinent connections.
Summarize – reiterate quintessential ideas you learned in the process of the topic investigation.
Trace – track changes of the subject matter from its initial stages to the latest ones.
Research – collect topical material from the primary and supplementary sources. Most of the time, you will have to analyze your findings.
Relation Words
They aim to reveal the connections between the explored issues or concepts.
Compare – elucidate similarities and differences between the integral elements of the research.
Contrast – determine only opposing elements, things that create resonance.
Apply – display functional sides of the central elements: try to adjust core ideas, concepts, or theories to a precise and probable situation.
Cause – demonstrate triggers of certain events or vital changes (basically, what made those alterations happen).
Relate – reveal the connections between the key constituents of the investigation.
Interpretation Words
They intend to defend your personal viewpoints regarding the subject matter. Yet, it is not about mere expression of individual opinion. It is important to support every idea by evidence. Consequently, make use of definitions, concepts, and examples from your research to make a full-fledged interpretation.
Assess – recapitulate your opinion on the subject matter and appraise it.
Justify – provide good examples to show how or why something can be proven right (make your reasons justifiable).
Evaluate and respond – critically assess your viewpoint, determining whether it is positive, negative, or somehow combines both.
Support – provide clear evidence based on your beliefs.
Synthesize – amalgamate two or more concepts together, but do not simply summarize them. Explain why the synthesis of the chosen ideas is logical and necessary.
Analyze – immerse in the functionality of the selected subjects, elucidate meanings and show the importance.
Argue – ponder on the side you would like to support; it is preferable to choose contrasting sides and defend them with proper evidence.
The Relevance of the Preparation Stages Inclusion
You have to remember that it is not always necessary to include all details of your investigation in the final project. Certain tasks are limited to elucidation of preparatory stages, while others encompass almost every part of the research. If instructions have such words as "to prepare", "to write", and "to consider", it implies you have to include only specific details in the final version of the written work.
For instance: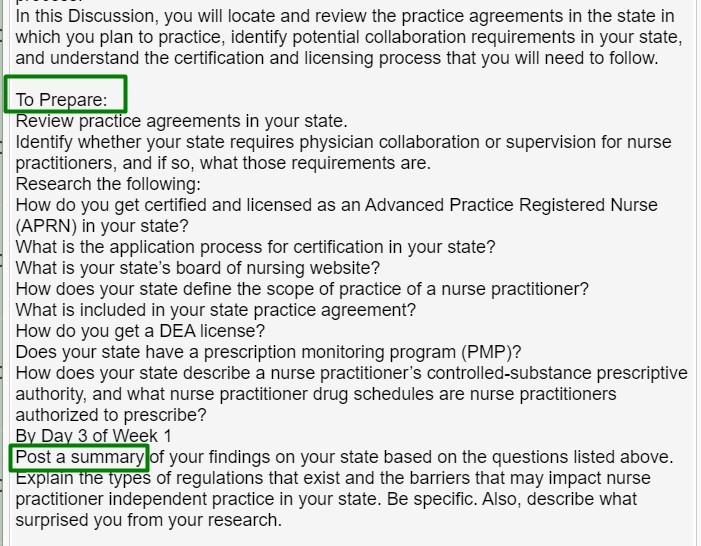 Evidently, this post encourages to summarize the findings and elucidate the existent types of regulations, but it is not obligatory to provide answers to all the questions in "to prepare" section. When professors assign such tasks, they motivate students to experiment during their preparation stages. Yet, the final paper should contain only the most relevant ideas.