December 14, 2021| Category: Writing Tips
Every paragraph of your paper should lead to a brief logical conclusion. Thus, a concluding sentence unifies the ideas you elucidated in a separate paragraph. It is necessary to create such closing sentences to make your text and subject matter itself more comprehensible. It means your readers will know that one paragraph has been finished, and they can coherently immerse in another one.
To make your concluding sentence effective in each paragraph, do not simply summarize your key points, but create a seamless contextual transition, which leads to another section of your work. The most typical mistake beginners make is the inclusion of extra information, which has not been previously revealed. Even if it continues the thoughts on the same topic, it is incorrect to present new-fangled concepts in concluding sentences. Another blunder is not including a concluding sentence into a paragraph at all.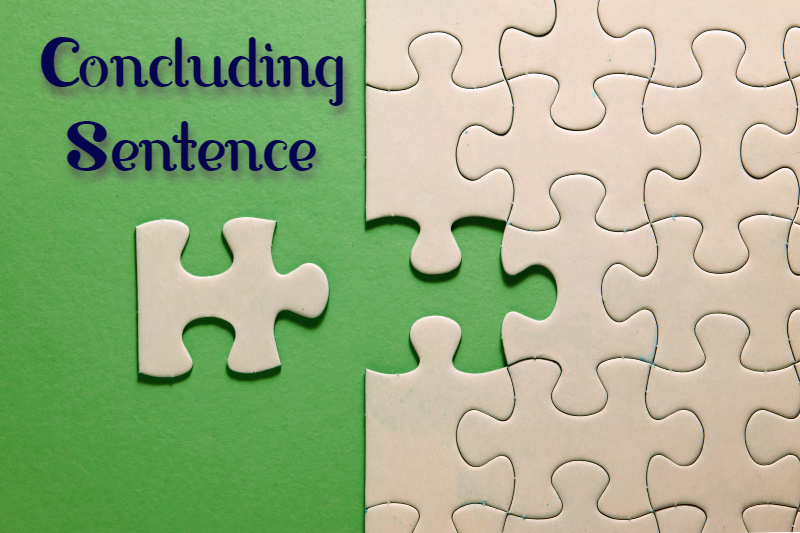 Features of Suitable Concluding Sentences
Knowing how to create concluding sentences efficiently is a halfway to success. It implies you understand how to keep focus on your fundamental viewpoint and sensibly elaborate on it. The features your concluding sentence should have:
The review of the essential opinions and arguments you illuminated in a paragraph;
The restatement of the chosen topic sentence;
The placement of the closing sentence at the end of your paragraph;
Amalgamation of previously mentioned key points. Nothing new should be suggested or stated.
Transitional words and phrases help to frame every new concluding sentence, making it stand out among other common sentences. You may choose one of the most typical and widely used transitions:
Most importantly,
Foundationally,
Consequently,
Surely,
Obviously,
In fact,
Indeed,
Undoubtedly/without doubt,
It is true…,
As expressed,
To put it another way,
In other words,
On account of…,
Accordingly,
In brief,
In short,
To clarify,
In sum,
In general,
Overall,
Therefore,
As a result,
Of course,
Hence,
Thus,
Finally,
Lastly,
For this reason/these reasons.
A Proper Concluding Sentence for Different Types of Assignments
Professional writers know that concluding sentences may vary depending on the types of the required written work. The differences are evident in such compositions as descriptive essays, narratives, compare and contrast papers, argumentative essays, as well as mass media articles or creative literary pieces, where you are allowed to experiment more freely.
If you compose a narrative paragraph, your concluding sentence should deal with the moral aspects of your work. It may be easier to create a concluding sentence for descriptive paragraphs, as it tightly connects all the mentioned ideas together. Also, you have to concentrate on the elements from your topic sentence, applying diverse word structures to sum up and support the revealed facts.
If you generate a compare and contrast paragraph, then your concluding sentence will revolve around the reiteration of the two topics with similar and opposing ideas. All the found similarities and differences should be logically elucidated. When writing an argument paragraph, you will have to delve into all the arguments or a significant single argument being made. It is beneficial to restate the reasons why your arguments are accurate. It is even more enticing to predict the consequences or reverse scenarios in case your argument is not taken into consideration.
Swift and Effective Tips to Create Robust Concluding Sentences
1. Remember that reiteration does not entail using the same words and sentence structures. Of course, you can use some synonyms from thesaurus, but it is much better to restate all the ideas from a fresh perspective.
2. Your concluding sentence will not logically flow as the final statement in your paragraph unless you use the fitting transitions. Transition phrases help to put emphasis on all the mentioned concepts and organize them coherently.
3. One of the smartest paraphrasing techniques is to change the order of the fundamental ideas in a topic sentence, making it more thought-provoking.
For instance, your initial topic sentence may be, "Exploring exoplanets more profoundly requires high-end technologies, which may be available in the nearest future."
You can write a concluding sentence in such a way, "High-end technologies are emerging to let space researchers explore exoplanets at an in-depth cosmic level, which has been impossible to this day".
4. A decent concluding sentence will principally give your target audience some food for thought. It is advisable to unite your previously mentioned ideas in such a way that your readers will pause to ponder over your thoughts. Although you should not mention some new information, you can unravel your contextual purpose to the fullest in a closing sentence.
Consequently, you can see that concluding sentences play quintessential roles in every written work. Before you start crafting a different supporting argument, you should create a perfect brief conclusion at the end of every paragraph. The key intention of creating concluding sentences is to remind your readers of the subject matter significance.