April 30, 2023| Category: Writing Tips
While employing AI in writing may seem innocuous and even enhance productivity, its use in academic writing has raised significant concerns. Many professors equate usage of AI writing tools with plagiarism or cheating. This article explores the ethical issues surrounding AI-generated writing, its potential shortcomings, and how it can be distinguished from human-written work.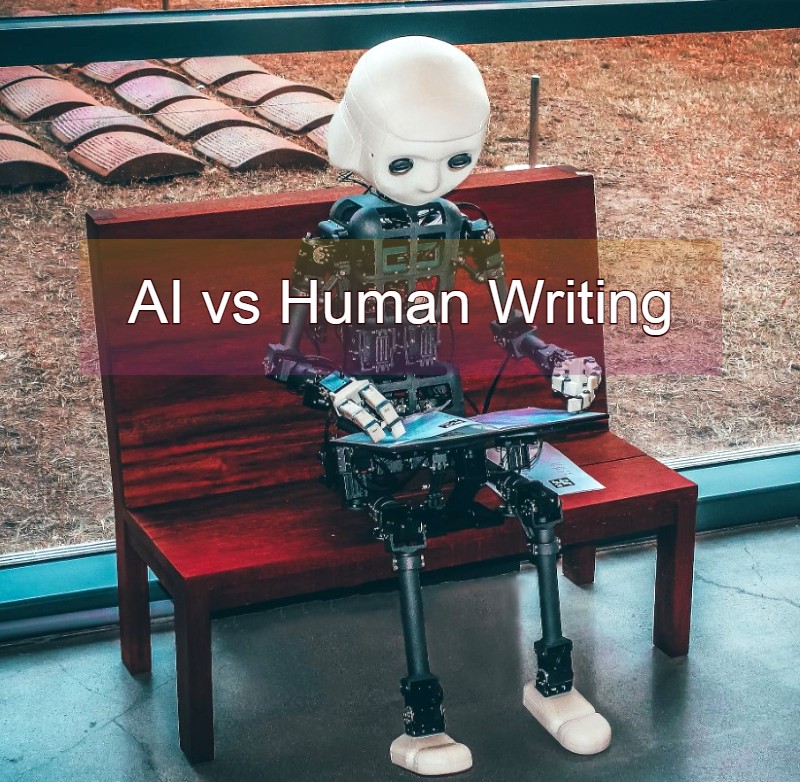 Ethical Implications of AI Assistance in Academic Writing
Different AI writing tools provide valuable assistance in the research and writing process. Yet, they cannot fully replace human expertise. Personal judgment remains crucial at every stage. Although AI-generated content is not plagiarized per se, writers who claim such content to be their own without crediting the AI tool are dishonest. Failing to list the AI tool as a co-author and provide proper acknowledgment is considered academic dishonesty, and in some cases, plagiarism. Utilizing AI to support and enhance writing brings up several ethical questions in scientific and academic fields.
Risk of Bias and Errors
AI tools are only as effective as the data that has been used to train them. They are susceptible to bias and cannot be solely relied upon for completing a writing assignment without human supervision. Human bias may be introduced if certain questions or keywords are omitted, whether intentionally or unintentionally. This can lead to distorted outcomes and misrepresentation. Particularly in scientific writing, AI tools might disregard discipline-specific nuances peculiar to a certain because those nuanced content was not included into the training data.
Additionally, AI writing tools oftentimes are quite inaccurate in presenting information. That is because these tools do not grasp the context and have no access to recently updated sources. Writers must still thoroughly proofread their work to identify and correct errors the AI may have missed or introduced.
Potential Loss of Learning Skills
A recent study found that increased reliance on navigation apps negatively impacted users' innate navigation skills. The same analogy applies to the dependence on AI tools. Writers and researchers must continue to develop their writing skills on a constant basis even when AI support is available. Writers should not scarify their ability to write in one's own voice and neglect grammar or stylistic mistakes due to overreliance on AI writing tools. It is essential to keep honing writing skills and attending to details even in spelling and grammar.
Misuse of Rewriting Tools
Writers frequently use various rewriting tools to maintain a text's original meaning while altering its articulation and structure or simplifying and condensing it. These tools usually help writers in paraphrasing or finding appropriate synonyms. However, you should not exploit such tools for plagiarizing or changing published content to be able to present it as your own. It is unethical to overuse rewriting tools and synonym generators to bypass plagiarism detection. Researchers and writers should aim to use AI writing and rewriting tools solely to enhance their writing and reduce errors, rather than rephrase a text written by someone else.
AI's Inherent Flaws
AI writing tools largely depend on web-based information that was available until some point, and that information can be inaccurate at the moment. Submitting an AI-generated essay generated without revising it can result in a paper filled with errors and inaccuracies.
Moreover, AI tools trained on web data often exhibit racist and sexist biases, making it quite easy for teachers to identify AI-generated papers.
AI Writing is Predictable
Andrew Wang, Vice President at Turnitin, notes that AI writing lacks a human touch, as it tends to use a limited set of well-known words. In contrast, students have their own unique writing style and vocabulary. More so, plagiarism detection tools can identify AI-generated content based on those specific word choices.
AI Produces Subpar Writing
The data used to train large language models (LLMs) is often outdated and may not represent current trends or events. Additionally, AI can invent facts and cite them as obtained from unverified or even non-existent sources online. Therefore, such sources cannot be considered reliable to write an essay. Moreover, such invented facts can be highly persuasive to writers who lack expertise in their field of study, potentially leading them to accept false information and compromise their essay's quality.
Detecting AI-Generated Writing
While AI-generated writing might be harder to identify than traditional plagiarism, there are several ways to distinguish it from human-written work. One method is to analyze the writing style, which often lacks the personal touch and unique voice present in human writing. Additionally, AI-generated content may include unusual word choices, repetitive phrasing, and poor sentence structure.
Another method for detecting AI-generated writing is to examine the content for inaccuracies, outdated information, or invented facts. As mentioned earlier, AI tools may rely on unverified or non-existent sources, leading to the inclusion of false information.
Lastly, the presence of racist and sexist undertones, common in AI-generated writing, can serve as a red flag. Educators can use these indicators, in combination with plagiarism detection tools, to identify AI-generated content and ensure academic integrity.
Final Thoughts
In conclusion, while AI writing tools can provide valuable support during the research and writing process, they should not be misused or over-relied upon. It is crucial to maintain personal judgment, continue developing writing skills, and adhere to ethical guidelines when using AI assistance. When you mind using AI tools ethically and correctly, you can ensure maintaining academic integrity and creating high-quality essays while avoiding the pitfalls associated with AI-generated writing.
Ultimately, you can view and use AI as a supplementary tool for finding inspiration for writing, enhancing your skills and reducing errors. Yet, don't rely on it as a means to cheat or plagiarize. The technologies will continue to advance, which makes it essential for the academic community to establish clear guidelines and policies surrounding the ethical use of AI tools in writing. This will promote a more responsible and transparent approach to utilizing AI tools in academic and professional settings.