June 30, 2023| Category: Writing Tips
In academic writing, it can be challenging to determine the correct application of quotation marks or italics for titles, an issue that many writers grapple with. This short article provides a comprehensive guide on the appropriate use of these punctuation symbols in titles.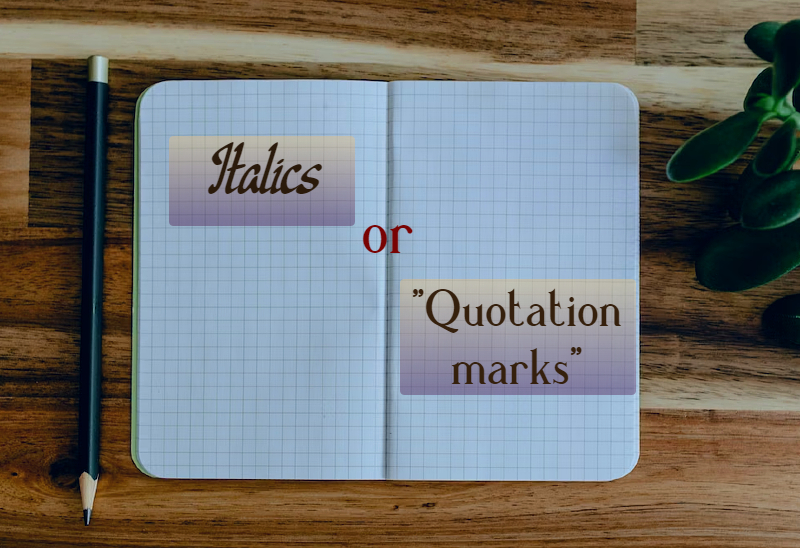 Key Guidelines for Using Quotation Marks in Titles
Quotation marks (" ") primarily serve to denote direct speech or replicate exact excerpts from other texts, yet their usage extends beyond basic punctuation. Moreover, their role includes demarcating certain categories of titles.
The prevailing guideline encourages the application of quotation marks for titles of brief works, which include but are not limited to, articles, essays, short stories, poems, and songs. Remember, it is crucial to employ the curly (smart) quotes in academic writing. Contrarily, writers should utilize italics for longer works such as books, movies, and periodical names. An exhaustive list is detailed below.
Titles Requiring Quotation Marks
Articles from academic journals
Articles in newspapers and magazines
Online blog posts and news articles
Titles of essays
Poems (excluding epic poems)
Short narratives
Songs
Individual chapters of a book
Lectures
Specific episodes from TV shows, podcasts, or serial works
Web page titles
Titles of sections or components within longer works
Short video clips, as seen on YouTube
Titles Requiring Italics
Books
Compilations of works
Anthologies
Reports
Epic poems (excluding regular short poems)
Titles of periodicals (magazines, newspapers, online news websites)
Films
Plays
Radio broadcasts
TV shows (excluding separate episodes)
Podcasts (excluding separate episodes)
Music album titles
Applications
Video games
Operas and extensive musical compositions
Notable artwork such as paintings and sculptures
Dissertations
Legal proceedings
Large vessels including ships, airplanes, and spacecrafts
Determining the Appropriate Quotation Marks for Titles
Importantly, two variants of quotation marks exist: double quotation marks (" ") and single quotation marks (' '). In academic writing, a writer must use double quotation marks. On the contrary, single quotation marks are to be utilized for titles that appear within another set of quotation marks.
For instance, in an article discussing Langston Hughes's poems, with a special focus on "Harlem," the article's title should be:
"Reflections on 'Harlem' and Other Poems"
In this case, "Harlem" when mentioned independently uses standard double quotation marks. However, when one cites it within another pair of quotation marks, it is necessary to utilize single quotation marks. This practice enhances clarity, as using double quotation marks within another pair can cause confusion. Let's review another example:
Episode Title: "The Rains of Castamere" (an episode of Game of Thrones)
Essay Title: "Why 'The Rains of Castamere' Is the Best Episode of Game of Thrones"
Thus, it is important to note that when a title enclosed in quotation marks is embedded within an italicized title, double quotation marks should be used. For instance, see how the title that assembles Roald Dahl's short stories is written:
"The Umbrella Man" and Other Stories
Quotation Marks for Titles: Common Questions
Why Should We Use Quotation Marks for Titles?
Evidently, writers need to use quotation marks to separate the titles of short works such as articles, essays, poems, short stories, and songs. For extended works such as books or movies, one has to use italics.
When Are Quotation Marks Used for Titles?
Use quotation marks for titles of articles, essays, poems, short stories, songs, chapters, lectures, website pages, serial work episodes (like TV shows or podcasts), section or part names within larger works, and short videos like those on YouTube.
When Do You Apply Italics?
Employ italics for titles of books, movies, plays, TV shows, podcasts, video games, applications, works of classic art (like paintings and sculptures), music albums, legal cases, dissertations, anthologies, reports, periodicals (such as magazines or newspapers), operas and extensive musical works, as well as large vessels  (like ships or aircraft).