November 15, 2021| Category: Writing Tips
If you want to grasp the transforming nature of academic writing, you should learn to differentiate between the educational levels. Let us focus on determining major discrepancies between high school papers and college essays. The trickiest thing is that at the initial stage, when working on both college-level and high-school tasks, instructions for the higher-level essays seem to be almost the same.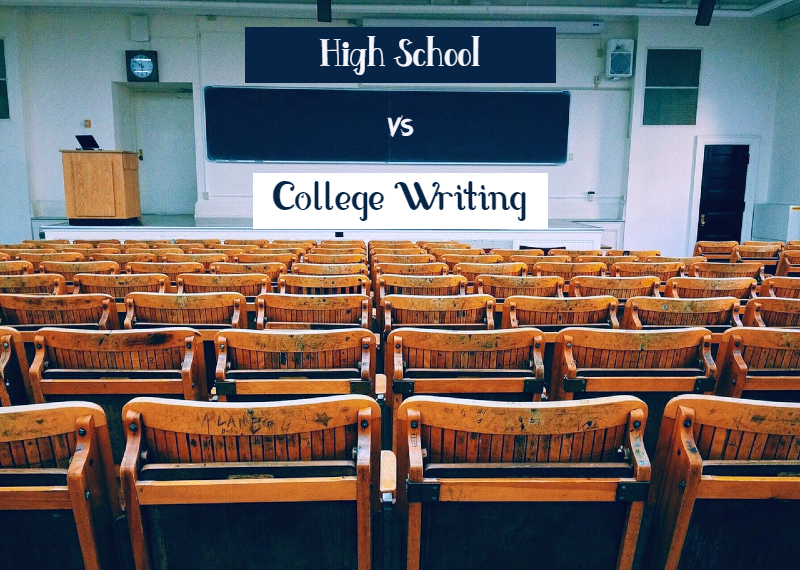 However, gradually, it is impossible not to notice some crucial changes in writing format and style. Unlike high school compositions, college projects turn out to be more time-consuming and complicated. Before crafting such an essay, you may have to scrutinize versatile sources, make up surveys, and create thorough outlines.
If you work as a professional writer, you should also learn the parameters used to assess papers at each academic level. For instance, the readability score of high school assignments must be quite low as it should embody simplicity. In contrast, mild sophistication is acceptable in college works. You have to remember that what is considered decent or even excellent at the high school level is likely unfavorable and even primitive if your composition should adhere to the college level standards.
Despite certain similarities, there are aspects of writing that never coincide at diverse educational levels. To estimate the level of your project, it is advisable to consider the following nuances:
The complexity of techniques and methods you need to employ;
The required skills and competence in the sphere;
The depth of investigation;
The significance of science-based thesis statements and concepts;
The time limit set to cope with the task;
The intricacy of paper structure and formatting rules.
Further, we will delve into the main discrepancies and qualities of the mentioned academic writing types. If you read all the tips below thoughtfully, you will move a step closer to becoming an ambitious academic writer.
Learn to Adapt to Different Academic Levels, Know What to Expect Beforehand
Let us face the truth: even if you can write a seamless high school paper, you may feel puzzled when you immerse in college-level instructions. Indeed, writing a good high school essay also demands being skilled enough. This level entails knowing grammar, punctuation, and spelling pretty well. Even when your task is quite simple, you often have to follow specific guidelines to complete it. High school writing predetermines a perfect knowledge of fundamental aspects.
On the contrary, in college writing, there should be no doubts that a student must know the basics. Your professor is not interested in amateur texts anymore. Your mission now is to prove that you have the potential to turn into a scholar. Thus, the context of your work becomes central. Every single sentence you are supposed to write should be insightful and appealing. It encompasses creating thought-provoking statements, constructive arguments, generating original ideas and presenting evidence for every point made. All the resources you find should be up-to-date; all the facts you illuminate should be quite challenging. It implies that college projects are much more demanding and non-trivial.
In high school, most of the assignments are related to narrating, describing, and, sometimes, comparing and contrasting. In college, every undergrad should prove that they are ready to encounter more elaborate issues and solve genuine problems. Instead of making up innocent stories, you have to research, analyze, juxtapose, experiment, and generate valid results in a particular field of study.
It is not too difficult to gain the dexterity of diligent college writing if you know some effective secrets:
Focus on individualized perception on the subject matter;
Continually develop analytical, critical thinking, and problem-solving skills;
Learn to come up with new ideas on any topic within relevant academic spheres;
Do not be afraid of presenting unusual thinking patterns and alternative standpoints on the problem;
In the process of research, do your best to evaluate all pros and cons, analyze, and synthesize all the information found;
Generate powerful arguments throughout the entire paper;
Collect compelling evidence, which supports your major claim.
In some instances, you can partly follow these guidelines when working on high school assignments. Do not be surprised if you see more complicated instructions than you expected. The requirements always remain subjective and depend on a personalized demand of a certain teacher.
You may encounter more intensified knowledge at the high school level if the course has an advanced inclination. Also, some teachers deliberately complicate the assignments to encourage brainstorming and in-depth evaluation of the problem. Yet, usually, it is enough to demonstrate your original thinking only partly, in a few logical sentences. Conversely, it is highly unlikely that college professors would want to simplify the project, making it resemble an ordinary essay, which needs no prior research.
Structural and Formatting Differences
When you write a high school paper, you can make use of standard outlining. There are also numerous samples and tricks on how to write simple essays of this kind. The main benefit is that you can apply those hints basically to any high school-level composition.
You can also create college papers using some of these tricks. Yet, you cannot apply standard structures to all the projects of the higher academic level. Professors tend to prevent students from using samples as well as analogous approaches, as every new project is aimed to reveal your creative potential and scholarly inventiveness. Moreover, you have to learn many alternative writing formats to APA and MLA.
So let us disclose the discrepancies of format and structure at the high school and college levels
Essay with only 5 paragraphs
It is often enough to produce 5 paragraphs: introduction, three body paragraphs, and conclusion, for a high school paper. In contrast, college works often surpass 5 paragraphs. The analysis of the topic itself along with profound arguments and a full-fledged conclusion encompass several pages. If you need to add a separate Results section or Bibliography section, then the length of the essay will only expand.
Restrictions of content
It is not necessary to elaborate on each point when producing high school essays. When writing college research papers, it is preferable to dwell on the subject extensively as long as you coherently support your central position.
Thesis statement simplicity versus complexity
Thesis statement is present in both high school and college essays. The difference is that such statements at the lower academic level can be brief and generalized. Thesis statements at the higher academic level are preferably compound and even multi-layered.
Formatting styles
The majority of papers you need to make for high school level should adhere to formatting rules of such popular writing styles as APA and MLA. More advanced educational levels also make use of these formats. However, Chicago, Turabian, and Harvard are included in the list as well. While formatting mistakes may be regarded as insignificant in high school, they are surely frowned upon at the college level.
Visual Embodiment of Academic Projects
In high school, you have more freedom "to play" with the layout. For college purposes, you should never include extra graphics, colorful pictures, or some binding elements. You can use images and bright headlines only in PowerPoint presentations or posters, but not in a research paper.
We hope that now you see the key differences between college-level and high school-level assignments. Learn these tips by heart and switch between the academic stages in a practiced way!