November 9, 2020| Category: Writing Tips
Making a great PowerPoint presentation is not a piece of cake for many people. In addition to having good writing, research, and analytical skills, one should also know how to work with this software, as well as have sufficient design proficiency. Using bad design for your presentation, you won`t be able to satisfy the needs of your target audience, which will result in failure. In fact, a perfect PowerPoint presentation is always a good balance between the well-written text and relevant visual effects. Given the challenging nature of this task, it frightens not only students in colleges and universities but also experienced speakers. Fortunately, the situation is not hopeless. After all, a PowerPoint is just a tool that should allow the person to convey his or her ideas and research findings in a compelling way. You need to acknowledge that the main purpose of your presentation is to effectively communicate your ideas and interact with your audience. Following the tips and suggestions provided in our article, you will be able to create a brilliant piece that will bring you the anticipated outcome.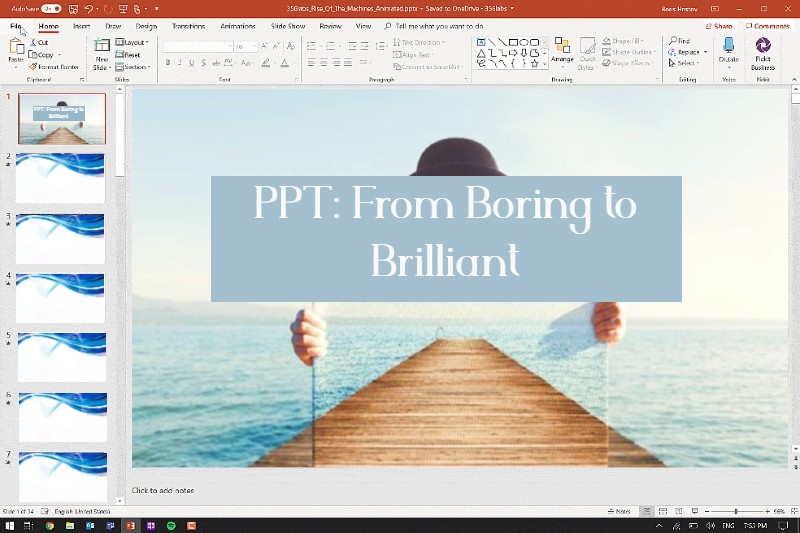 Pay close attention to what you write in your PowerPoint presentation.
Although a presentation is not a typical academic paper, the text you write in it is very important. You cannot start to design your presentation before you know what you are going to say. Thus, before you start working with PowerPoint scrolling the slides, you just need to write the text of your work in a DOC file. Of course, you won`t be able to write good text without researching. Thus, we highly recommend you study your topic thoroughly working with reliable academic sources. Pay attention that the success of your PowerPoint presentation depends mainly on the reaction of your target audience. Thus, you need to develop all your ideas in a way that will make them easy-to-follow. Also, make sure to create a strong thesis statement. Once you are done with writing your thesis, you may start working on writing the important supporting points and organize them into a clear outline. If you believe that writing an outline is just a waste of time, we assure you that it is not right because a well-structured outline will significantly facilitate the writing process. We highly recommend you limit the number of points you are going to discuss in your paper to only three or four picking the ones that are the most important. When you are working on an outline, you need to treat it like a story that has a beginning, the main body, and a good final. Ideally, you need to grab the attention of your target audience from the very first lines including a hook or a provocative statement. At the end of your PowerPoint presentation, you need to include a call to action. Making your audience think is the best way to influence them and remain in their minds.
Make it simple.
Simplicity is a particularly important thing when it comes to creating PowerPoint presentations. On a macro level, choosing a simple topic, you will find it easier to develop it from different perspectives. On a micro level, the simple layout of your slides will help you convey your ideas in a good way. Ideally, you need to put one idea on one slide. Trying to include as much information as possible on your slides is a wrong strategy that will definitely result in failure. What is more, you should include good transitions but don`t overburden your presentation with them. When you eliminate all the things that may distract your audience from your initial message, you will succeed with your project.
Select appropriate pictures.
Pictures cause stronger emotions than words. When it comes to creating a PowerPoint presentation, posting good pictures is one of the main things you should do. A slide that contains an appropriate image accompanied by compelling text will say more to your reader than just a single paragraph.
Make sure to pick up the pictures that fit your topic and overall presentation tone. Do not use the first pictures you find on the web. We highly recommend you use platforms such as Unsplash, Pexels, or Stokpic to find the most relevant and accurate images.
Create an appropriate visual theme.
A good presentation always has visual cohesion. Although there are many standard PowerPoint templates, you should not use them if you want to impress your audience with a creative approach. Ideally, you should create your own design that would match your topic best of all. However, if you feel that this task is too tough for you, you may go to the platforms with the paid PPT templates and select the one that fits your project most of all. Pay attention that simplicity is your way to success. Thus, you don`t need to overburden your slides with multiple colors or figures. Distracting your audience from the messages conveyed in your paper, you won`t receive the anticipated grade.
Present your data in an engaging way.
When presenting your data, you should be very attentive to its visual presentation. For instance, you should understand that bar graphs and pie charts are pretty difficult to see and comprehend in distance. By forcing your audience to read much information and understand it, you will puzzle them. To meet their expectations, you need to think about the size of your text, as well as visual effects that would help you deliver your messages successfully. Instead of charts, you need to use simple infographics and icons to make your PowerPoint presentation visually appealing.
Make it original.
If your audience notices that your presentation contains the parts that are borrowed from the works of other researchers without mentioning their names, you will fail your project. To reach your goal, you need to include only fresh, interesting, and original ideas in your paper. Besides, you need to avoid repetitions. Some people just repeat the same ideas in different words, which negatively influence comprehension. Pay attention that by overburdening your text with too many unnecessary details, you will confuse your audience. Keep in mind that people cannot read and listen to your presentation at the same time. If you want them to comprehend your text well, you need to make sure your slides reinforce what you are saying. Do not put your information into long and boring paragraphs. Using appropriate bullet points is a much better option.
Pick up a good color scheme.
When it comes to creating PowerPoint presentations, you should not underestimate the importance of colors. Appropriate colors will help you make the right impression on your audience and develop your topic in a good way. Of course, you don`t have to be an expert in the color theory but knowing the basics, you will enable your audience to enjoy your project. According to this theory, warmer colors, like orange and red, evoke energy, whereas cool colors, like green or blue, tend to calm down the viewer. Understanding this principle, you need to pick up the appropriate background for your slides. Besides, you should not make your presentation too colorful because it won`t allow your audience to focus on what you are saying. We recommend you to pick up two or three colors and work with them. If you are not certain about what color palette to choose, there are some websites such as Colour Lovers or Color Hunt that will help you do it without extra effort.
Stick with one font.
Although it may be pretty tempting to use non-traditional and sophisticated fonts, you should avoid it because it is unprofessional. The best option is to use the commonly accepted and standard-looking fonts such as Times New Roman or Arial. These fonts were created just for the easy comprehension of information in academic writing. Pay attention that your headings and subheadings should have a larger size than the rest of your text. Many people experience troubles when it is needed to choose the right font size. It is pretty challenging to find a balance between the comfortable font size for your audience and font size allowing you to state everything you want. We recommend you ask some of your friends to check your presentation and tell if the font size is appropriate.