February 28, 2023| Category: Writing Tips
Statistics plays an important role in academic papers across a wide range of disciplines. However, presenting statistical data in an academic paper requires careful attention to detail and clear communication. Moreover, it is important to ensure that the data is reputable, relevant, and appropriate for your research question. To know how to correctly incorporate statistics in the paper, read the handy tips below.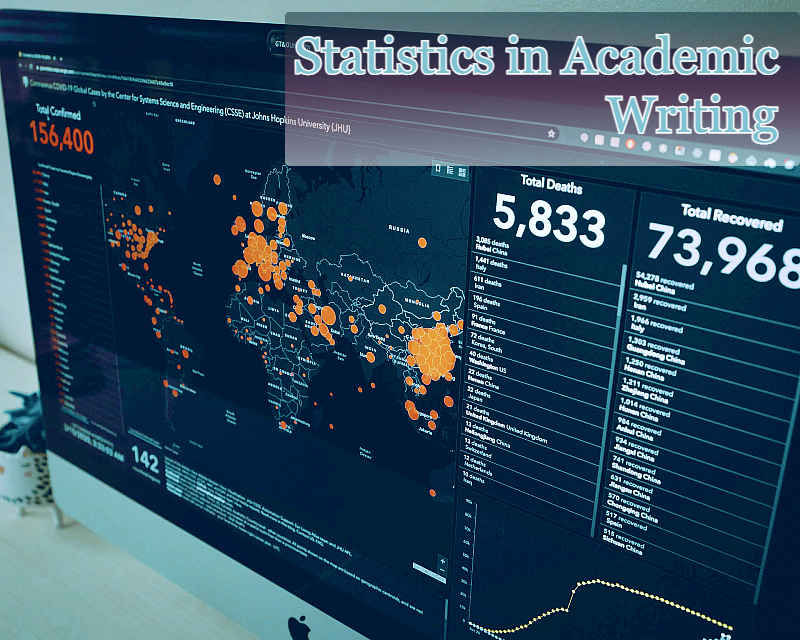 The Role of Statistics in Academic Papers
Writers should use statistical data in their papers for a number of purposes. Here are some of the key reasons:
To provide evidence: Statistical data provides concrete evidence to support the arguments made in the paper. By using statistical data to back up their claims, writers can strengthen their arguments and make them more convincing.
To support generalizations: Writers often make generalizations about the world or specific phenomena in their papers. Statistical data can help to support these generalizations by providing empirical evidence that supports the claims being made.
To evaluate the effectiveness of interventions: In many cases, writers may be writing papers about interventions or policies that have been implemented to address specific problems or issues. Statistical data can help to evaluate the effectiveness of these interventions and provide insights into how they can be improved.
To establish credibility: Using statistical data in a paper can help to establish credibility and demonstrate that the writer has conducted rigorous research. By presenting data and using statistical measures to analyze it, writers can show that they have taken a methodical and scientific approach to their research.
To draw conclusions: Statistical data can help draw conclusions about the research question. By analyzing the data, writers can identify patterns and trends that can be used to draw meaningful conclusions about the phenomena being studied.
How to Incorporate Statistics into the Paper
When presenting statistical data in academic papers, it is important to follow some basic guidelines to ensure that the data is presented clearly and accurately. Here are some tips:
Provide context: Before presenting statistical data, writers should provide some context for the data and explain why it is relevant to their research question. This will help the reader understand the significance of the data and how it relates to the overall argument of the paper.
Use clear and concise language: Writers should use clear and concise language when presenting statistical data. Avoid using technical jargon or complex terminology that may be difficult for the reader to understand. Use simple language and define any terms that may be unfamiliar to the reader.
Use appropriate graphs or tables: Writers can use appropriate graphs or tables to present statistical data. Choose a graph or table that is best suited to the data being presented and make sure it is easy to read and understand. Use clear labels and captions to help the reader interpret the data.
Use appropriate statistical measures: Writers should use appropriate statistical measures to analyze the data and report the results accurately. Make sure to report any limitations or assumptions associated with the statistical analysis.
Discuss the implications of the data: It is necessary to discuss the implications of the statistical data and how it supports or refutes the research question. Explain any patterns or trends that emerge from the data and relate them to the overall argument of the paper.
Be honest about the limitations: Writers have to be honest about the limitations of the data and the statistical analysis. If there are any issues or uncertainties with the data, writers should discuss them openly and transparently.
Sources of Statistical Data
Statistical data can be found from various sources, including:
Government agencies: Many government agencies collect and publish statistical data on a wide range of topics, including demographic data, economic indicators, health statistics, and more. Examples of such agencies include the U.S. Census Bureau, the Bureau of Labor Statistics, and the World Health Organization.
Academic journals and research papers: Many academic journals and research papers include statistical data as part of their findings. These can be found through academic search engines or by searching databases such as PubMed or JSTOR.
Nonprofit organizations: Nonprofit organizations often collect and publish statistical data related to their areas of focus. Examples include the World Wildlife Fund, the United Nations Children's Fund (UNICEF), and the Pew Research Center.
Private research firms: Private research firms may also collect and publish statistical data on various topics such as market research or consumer behavior. Examples include Nielsen, Gallup, and Ipsos.
Online databases: There are many online databases that compile and organize statistical data from various sources such as the Data.gov, the United Nations Statistics Division, and the World Bank's World Development Indicators.