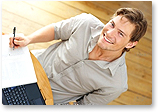 About us
Are you looking for a well-paid job as a freelance writer? Do you prefer working at home? If your answers are positive to those, then you are probably in the right place at the right time. 4Writers.net offers part-time and full-time job opportunities in the field of custom writing. We have built the best and most professional community within the writing industry and continue to bring together only the most skilled and hardworking writers around the world.

WHAT WE DO
4Writers.net is a freelance writing company. We offer excellent quality of custom writing, research papers and editing services to our clients worldwide.
WHAT WE OFFER
With 4Writers.net, you can always choose what you want. You decide which orders to take and when to take them. We offer the most rewarding prices within the industry (up to $16/page). Moreover, we provide instant financial rewards to the writers who receive the best feedback from the customers. The online system of 4Writers.net effectively facilitates the writing process and makes it easier than it seems. This will allow you to fully focus on providing quality papers instead of taking care of technical issues leaving them to our support team.
WE VALUE OUR WRITERS
We offer professional support to all our writers to facilitate and ensure long term cooperation. Our online support system was developed to instantly assist our writers with the writing process. Our staff members are available 24/7 to assist you with any queries regarding your work or payments. We are strongly determined to constantly improve our standards and make your writing process even more comfortable and trouble-free.
If you are interested in working with 4Writers.net, then join us. In order to do that, you are required to fill in our simple sign up form. Then you will be asked to pass a short test so we can evaluate your writing level. When you successfully pass the test and your account is approved you may start working on orders. Welcome to our freelance writing team!
Best Regards, Administration